What will you show at Open House? It's been a while since our last in person show! Here's a reminder of some of the things we have done since then!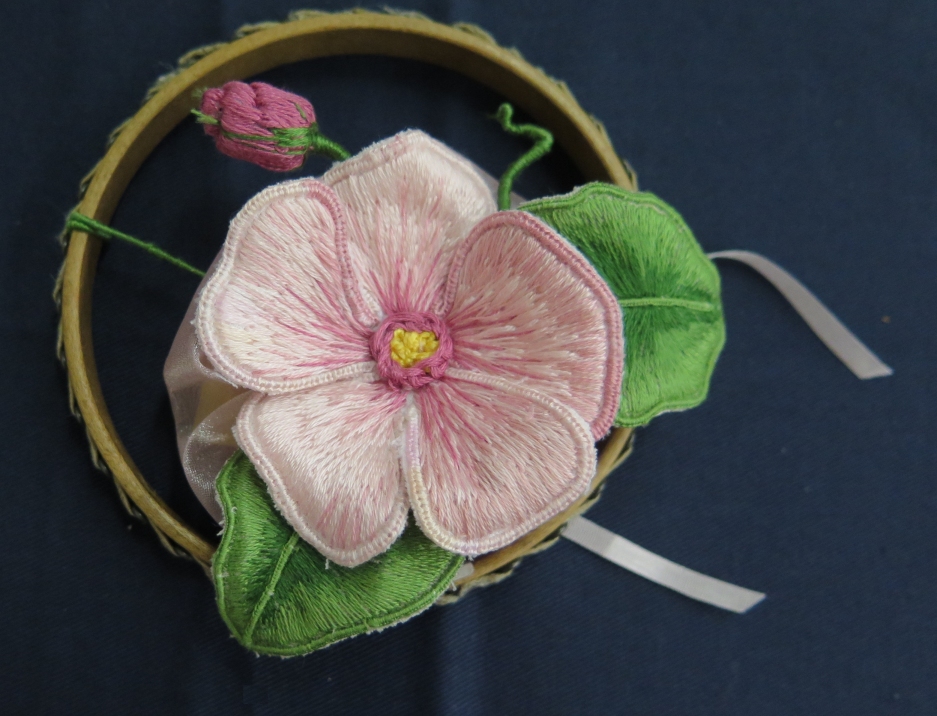 2019-2020 Classes (in person)
Beginners Stitching with Alison Jackson
Beginners Stumpwork with Dana Trimble
Needle Lace with Pat Bowley
Hand Stitched Reverse Appliqué with Cathy Williams
Counted On Canvas with Ietje Jackovich
Stitched Edges and Insertion Stitches with Ruth Douglas
Feathers and Fur with Mavis Brown
Free Standing Dimensional Stumpwork with Ana-Maria Kramer
Beaded Embroidery Sampler with Judy Eckhardt
Sashiko with Jane Londerville
Soutache and Shibouri with Renata Georgeff
Experimentation in Felting with Hazel Alexander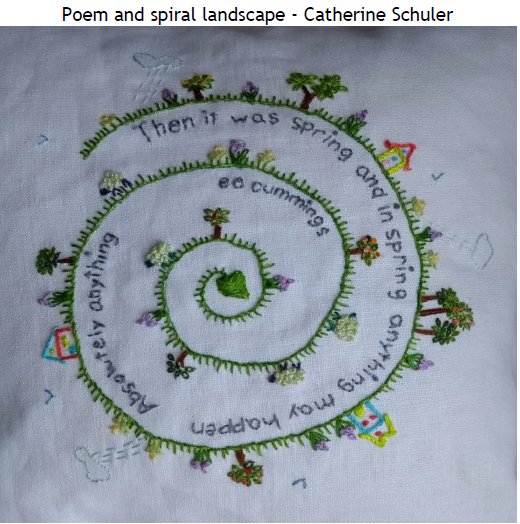 CHALLENGES
During 2019-2020 we had an ongoing Brown Bag Challenge.
In 2020, President Mavis Brown issued a Fanciful Face Mask Challenge.
In January of 2021 Mavis introduced the Covid Bug Challenge (or any bug).
Later in 2021, Mavis issued the Spring Fling Challenge.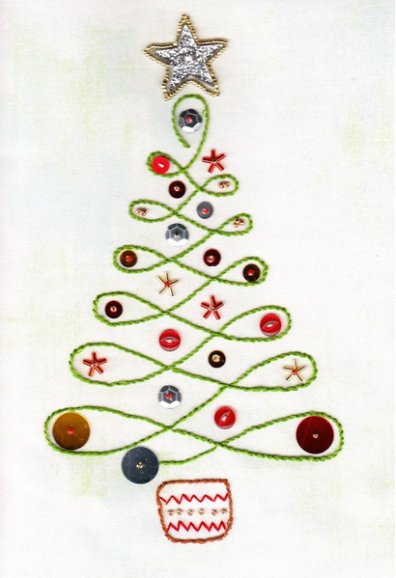 ONLINE
While we were meeting online, we participated in a number of smaller projects.
Embroidered Mouse with Ana-Maria Kramer
Little Landscapes with Alison Jackson
Brooch with Pat Menary/Jay
online Christmas workshops in Nov 2020 were Dove of Peace, Large Ornament, Roses & Noel ornament, Christmas Box Bauble, With My Heart ornament, Starbursts and Baubles ornament.
The Christmas Workshop in Nov 2021 was the 3D tetrahedron Ornament by Elfrieda Jackson (with poinsettas on it), the swoopy Christmas Tree and the felt angel.
Alison Jackson Workshop: Hardanger
Winter 2022 online classes
Wool appliqué with Bridget O'Brien
Canvas Work sampler with Ana-Maria Kramer
Crazy Patch Tree with Judy Eckhardt
Beginner Designing with Ruth Douglas
Variations in Landscape with Sue Ronchka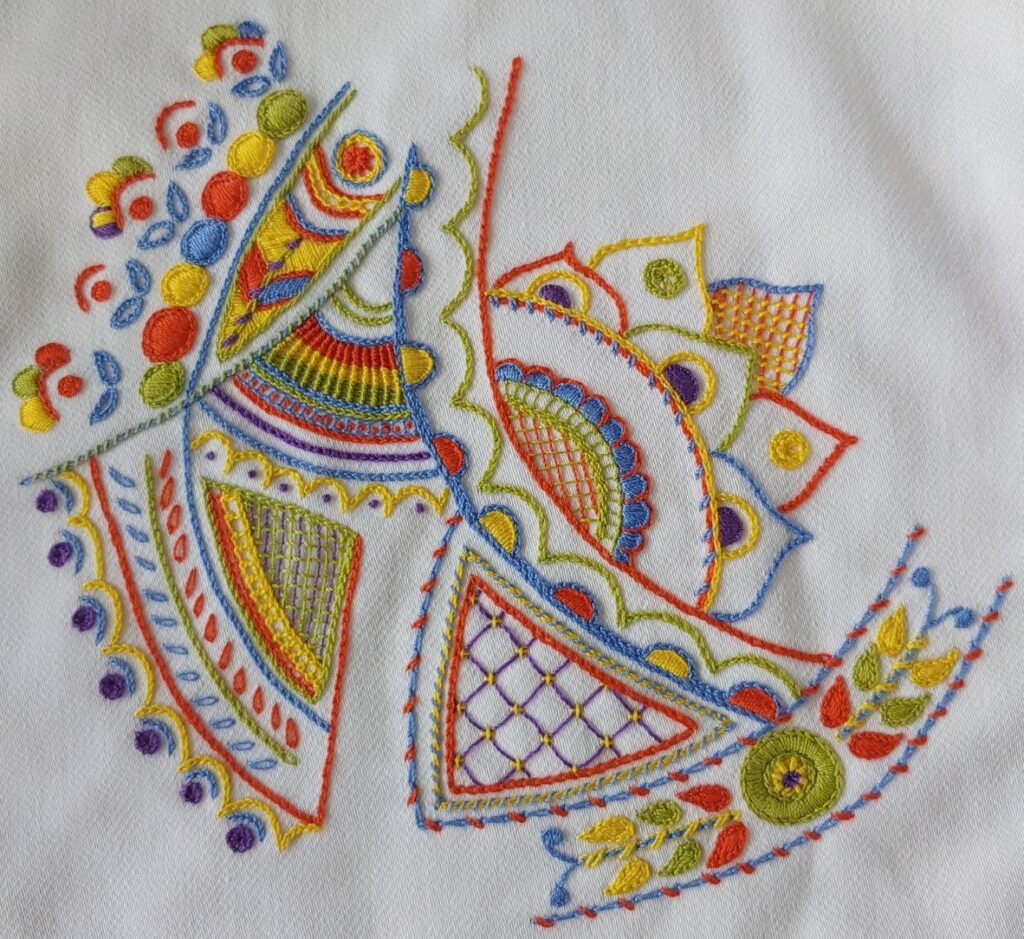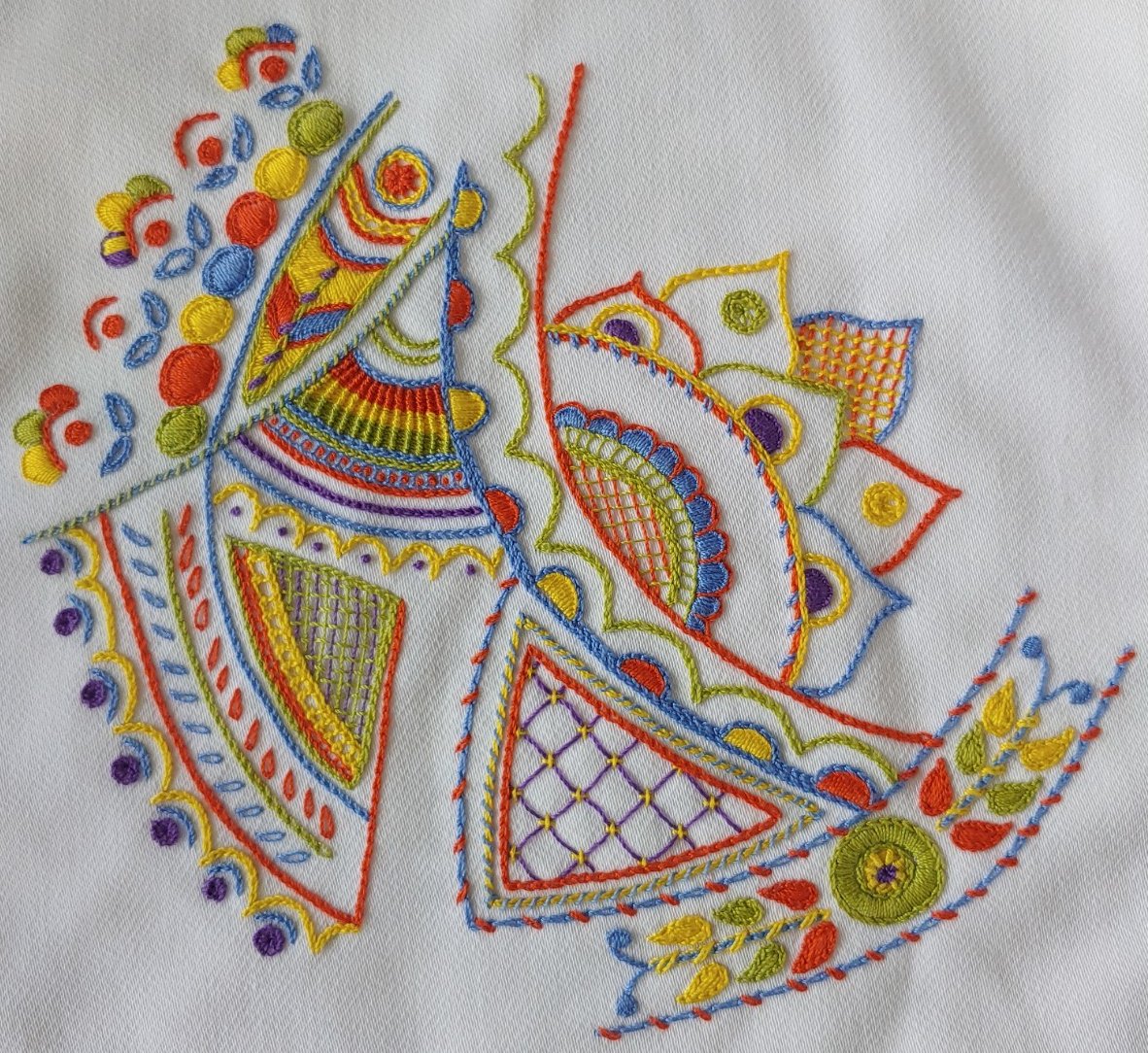 2022-2023 Classes (in person)
Stitch with Confidence with Bonnie Evans
A New Look at Stumpwork with Laura Dobrindt
Slow Stitching with Pat Bowley
Pocket Project with Judy McMullan
Ricamo di Parma with Ruth Douglas
I Wish I Had a BIG Hat with Sue Ronchka
Motifs and Slips with Judy Eckhardt
The Circle Game with Bridget O'Brien
Glazig Embroidery with Janet Sunderani
Hardanger – Basics and Beyond with Alison Jackson
Mike Parr Workshop: Stitch Your Own Story
Send in a photo or scan of your Open House Submission Form to cegguelph@gmail.com