Our website had an unwelcome vacation for the last 3 months but we are back! Your webmaster will take a couple of weeks to do some updating.
Our next big event is our Open House and Display of Work! It will be Tuesday April 18 from 1-5 pm. What will you see? Works from our recent classes; works from our online classes which took place during the pandemic; other  pieces which our busy fingers have done on our own. That's 3 pent up years of art ready to be displayed!
Come along and see what we've done and take a break in the Tea Room to discuss it all!
September 16, 2022

The Embroiderers' Association of Canada has declared the last Saturday in September to be National Stitch-in-Public Day. That will be Sat Sept 24th, this year. While our Guild is not a member of the EAC, we are all in favour of stitching! So, you are encouraged to bring your work to the park or the mall or even your own front yard and let others see your love of embroidery! Have fun!
Classes are the heart and soul of the Guild and we are excited to be holding in person sessions once again.

We'll take a break for the summer and be back with needles between fingers in September.
Check back here in late August for dates and lists of what we'll be learning.
For the 2022-23 year, Full Memberships are $90 and Associate Memberships are $40. We anticipate a slight increase in membership fees for 2023-24. Watch this space.

Full member benefits include classes and:
– afternoon speakers and mini workshops, demonstrations, films.
– 1-2 workshops each year (extra cost)
– field trips (extra cost)
– library resources
– information about workshops, classes, displays, juried shows etc. in other centres.
– Annual Open House and display of work
– newsletter three times a year
August 14, 2022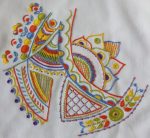 Class lists for 2022-23 have been posted! If you need a Registration Form before Sept 13, they are available on the Resources page.
Our Open House is a visual feast of the work of over 50 artists and a retrospective of not only our class work but also the creative work that each of us have been doing on our own. This once a year event will be on Tuesday April 18th, 2023 from 1-5 pm at Kortright Presbyterian Church, 55 Devere Drive in Guelph. A tea room is included, of course!