Our regular meetings are on hiatus for the summer but you might run into someone from the Guild here or there:
Visit us this summer at the Fergus Fibre Festival in Fergus, Ontario on Saturday May 27th. We'll be staffing a display there.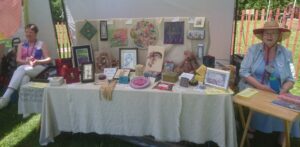 We'll also be showing our work at main branch of the Guelph Library, during August.
We'll staff a display table at the Aberfoyle Fall Fair on Saturday September 9th. Come have a chat!
If you enjoy embroidering, CEGG has a prize for that at both the Fergus Fall Fair and the Aberfoyle Fall Fair  within the Homecrafts division. Show us what you've got!
The announcement of our classes for 2023-24 will come out in mid-August. Check back here or send us your email now and we'll send you our August newsletter with all the info.
Stitchers! One benefit of the pandemic was our days spent stitching outdoors, together. We very much enjoyed stitching "en plein air". Why should the painters have all the fun? So, we are planning 3 outdoor stitching events this summer. To make your life simple, they are all on Tuesday mornings! Dates: Tuesday June 27th, Tuesday […]
What will you show at Open House? It's been a while since our last in person show! Here's a reminder of some of the things we have done since then! 2019-2020 Classes (in person)Beginners Stitching with Alison JacksonBeginners Stumpwork with Dana TrimbleNeedle Lace with Pat BowleyHand Stitched Reverse Appliqué with Cathy WilliamsCounted On Canvas with […]
Classes are the heart and soul of the Guild and we are excited to be holding in person sessions once again.

We'll take a break for the summer and be back with needles between fingers in September.
Check back here in late August for dates and lists of what we'll be learning.
For the 2023-24 year, Full Memberships will be $100 and Associate Memberships will be $50.

Full member benefits include classes and:
– afternoon speakers and mini workshops, demonstrations, films.
– 1-2 workshops each year (extra cost)
– field trips (extra cost)
– library resources
– information about workshops, classes, displays, juried shows etc. in other centres.
– Annual Open House and display of work
– newsletter three times a year
Our Open House is a visual feast of the work of over 50 artists and a retrospective of not only our class work but also the creative work that each of us have been doing on our own. This once a year event will be on Tuesday April 18th, 2023 from 1-5 pm at Kortright Presbyterian Church, 55 Devere Drive in Guelph. A tea room is included, of course!