CLASSES
Jump to Winter class descriptions
Classes are the heart of the Guild. Come to classes to learn something new, to refine your technique or to join the Independent group and do some research in our library or plan your next project. The camaraderie is great, no matter how you approach it.
Each class comprises 6 sessions, usually two weeks apart. The class day starts at 9:30 am. After a morning welcome and information period of 10-15 minutes, we get right to the instruction. Instruction and stitching carry on until noon. Most bring a brown bag lunch and join the other stitchers for some relaxed socialization. At 1 o'clock we'll have a speaker or special project or trunk show until 2 pm.
Registration for the 2020-2021 year will be on Tuesday, September 15th, 2020 – time to be announced – at Kortright Presbyterian Church, 55 Devere Drive in Guelph. There will be 6 class choices in the Fall and 6 class choices in the Winter. Please see the class descriptions farther down the page (New lists will be posted some time in August). You are also welcome to sit at the Independent table and do your own thing.
FEES
Full membership for 2019-20 (includes registration for fall and winter classes, workshops etc.) $85.00 
Associate membership for 2019-20 (includes afternoon programs, workshops, mailings etc.) $40.00
We anticipate that fees will be similar for the 2020-21 year.
GUILD CLASS DAY ACTIVITIES
9:30 am – Guild Announcements
9:45 am – noon – Classes
12 pm – 1 pm – Brown Bag Lunch
1 pm – 2 pm – Afternoon Programme
Library Hours:  9 am to 12.45 pm
SKILL LEVELS
Basic: are those who need guidance in reading stitch patterns or who are new to the technique. 
Intermediate: are those who understand stitch patterns but may need guidance; have taken the technique or similar one at the basic level; have a basic understanding of colour and design. 
Advanced: are those who can read charts and stitch diagrams with ease; good understanding of stitch technique; good understanding of colour and design; able to work independently.
SELECTING CLASSES & REGISTERING
On Registration Day, Tuesday, Sept 15th, 2020, the instructors will have samples of their work on display (it's a mini art show!) and will be pleased to tell you about their classes. Registrants will fill out a Registration Form (also available at Registration) and will be asked to make 3 class choices in order of preference for the Fall session, and 3 choices for the Winter session. To ensure fairness, the selection of participants for each class will be made by a draw. Most people get their first choice and we hope that the same will occur this year.
The draw will take place after Registration and you will be notified, by telephone or email, of your two classes for the year. Please make note of your classes, although class lists will be available on the first day of class.
CLASS SUPPLIES
Members are responsible for course supplies. A list will be provided at Registration. Some courses may have an additional fee for supply kits or photocopying.
QUESTIONS
Any questions about registration or classes, please contact the Teaching Program Coordinator, Judy McMullan 519-846-0550. 
There are no advance registrations.
If you are unable to sign up in person, do so through a friend or mail (at least a week ahead) your registration, with cheque, to C.E.G.G., P.O. Box 25106, Stone Road PO, Guelph, ON N1G 4T4. Note, we have no access to mail sent to Kortright Presbyterian Church.
Fall 2019 CLASS LIST       NOTE: Class lists for 2020-2021 will be announced in August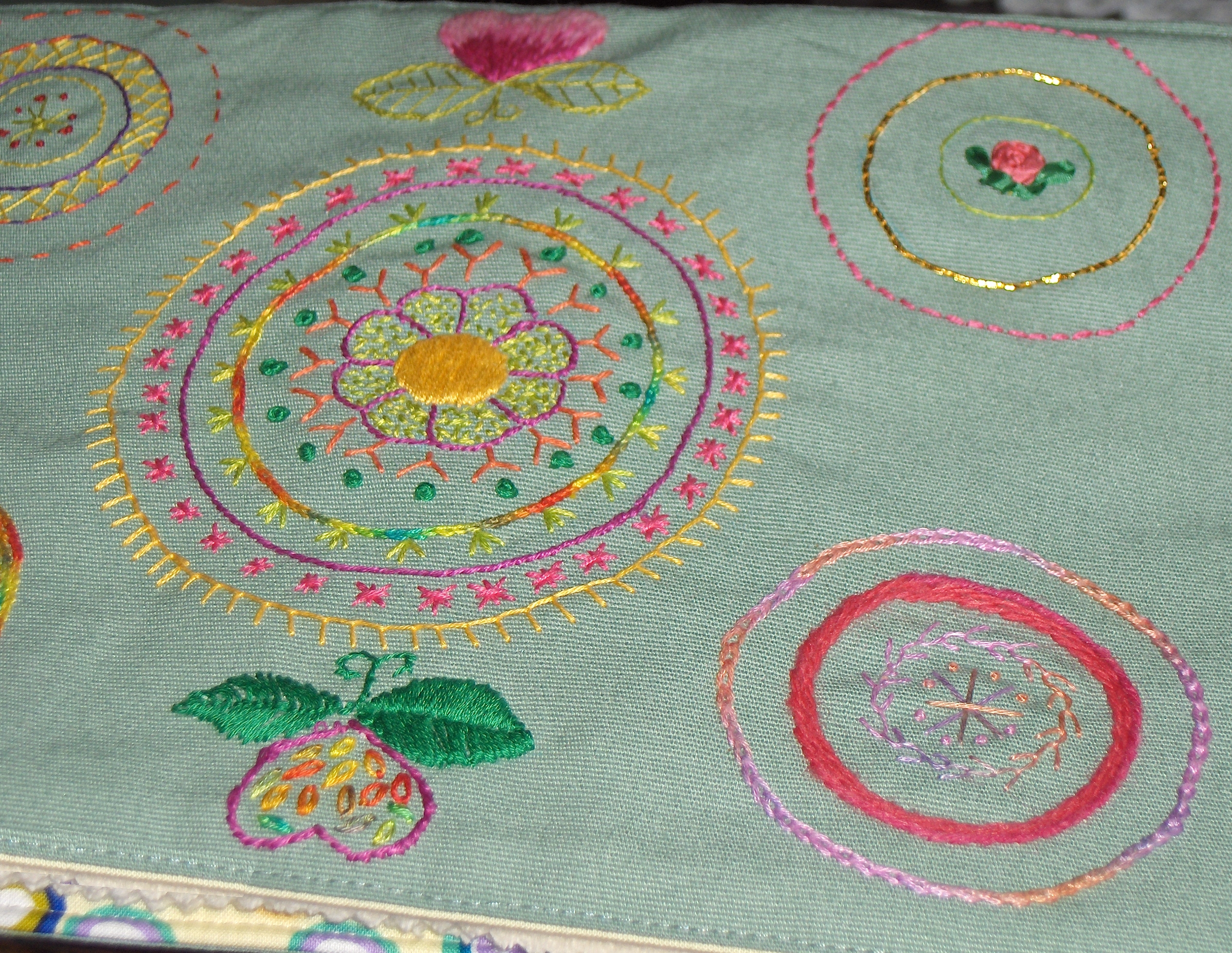 BEGINNING EMBROIDERY               ** CLASS FULL **
Alison Jackson
You will learn the basics of embroidery, including types of fabrics, hoops, needles and threads, along with at least 20 basic embroidery stitches. This project can be made into a needle roll or bag.
Skill Level: Beginner or refresher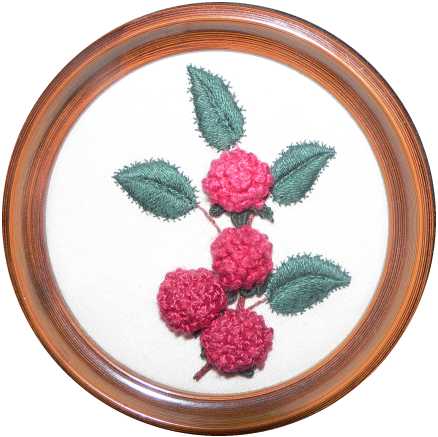 BEGINNER STUMPWORK               ** CLASS FULL **
Dana Trimble
Stumped by Stumpwork? Dana demystifies these 3-dimensional raised embroidery techniques. Learn techniques for stems, flowers with detached petals, and a few insects. We will use the following stitches: couching and overcast, stem, split, satin, long and short, raised stem band, and lots of buttonholing. Be aware that this work often uses a single strand of floss.
Skill Level: Beginner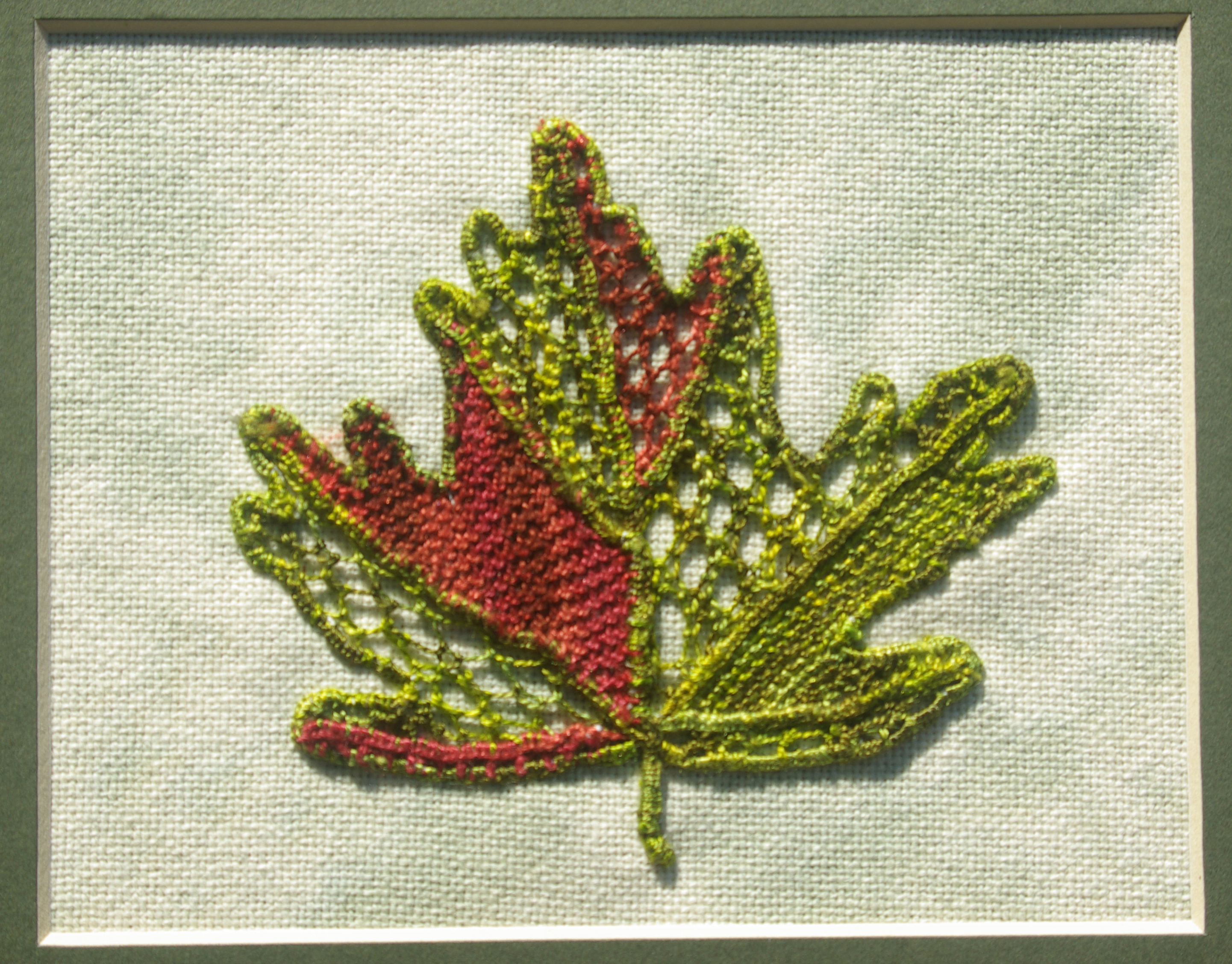 NEEDLE LACE               ** CLASS FULL **
Pat Bowley
This course will cover five basic stages in the following order: preparation of the design and the working mat; couching outline threads around and within the design; learning and/or working several lace stitches of varying complexity; working buttonhole stitches over the outline threads; removing the finished piece from the working mat. Students will make their own sampler mat to practice new stitches. The main project will also be a sampler, designed by each student. Students will then have the opportunity to design and work on additional pieces, using new stitches and traditional and contemporary techniques.
Skill Level: Beginner/Intermediate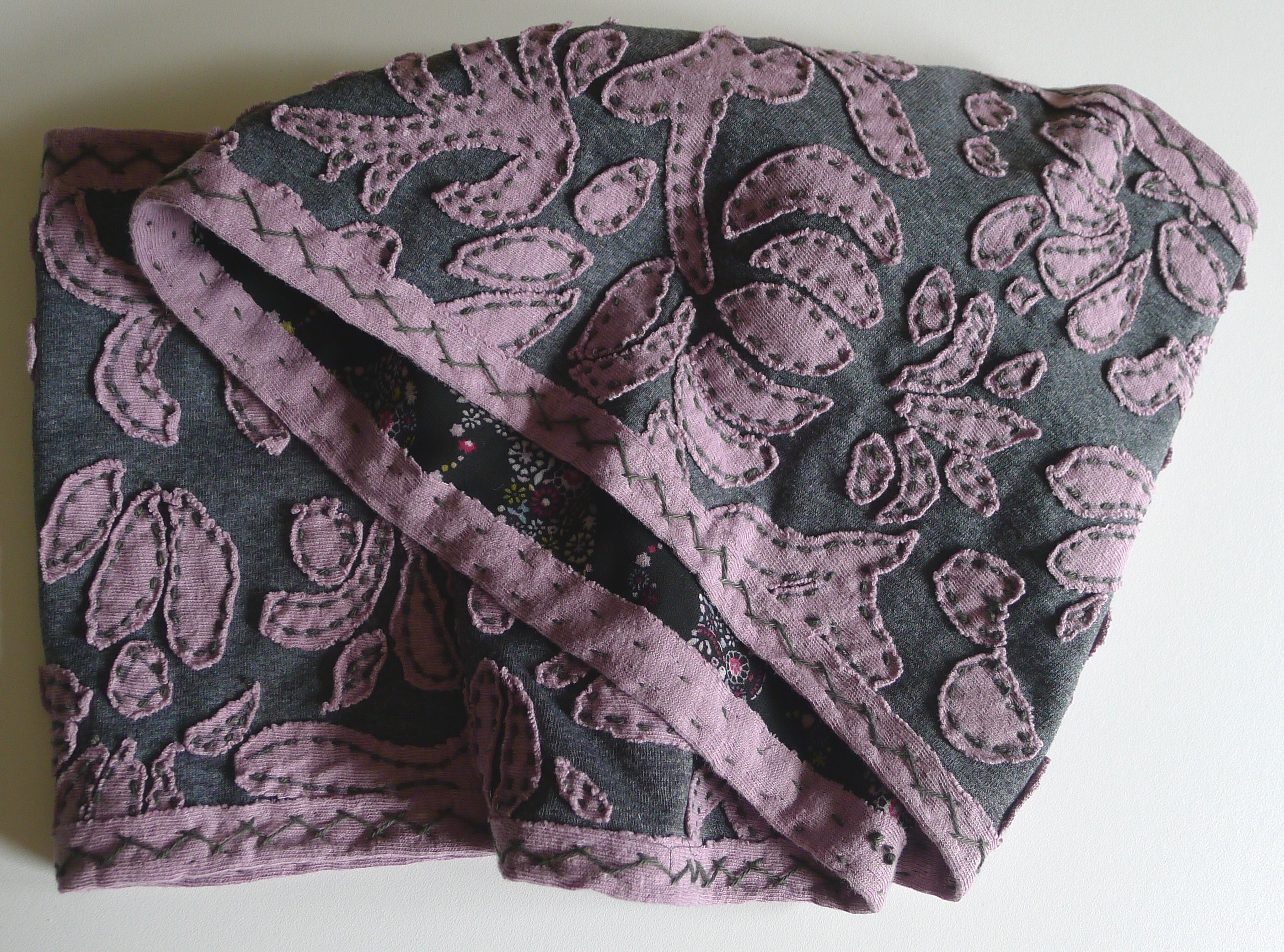 HAND STITCHED REVERSE APPLIQUE               ** CLASS FULL **
Cathy Williams
This scarf project will use the Alabama Studio method of reverse applique and negative reverse applique. You will start with learning to make your own template and wind up with notes on finishing and stitching edges. Hand stitching with slow-fashion stitchery techniques will be the focus throughout.
Skill Level: Beginner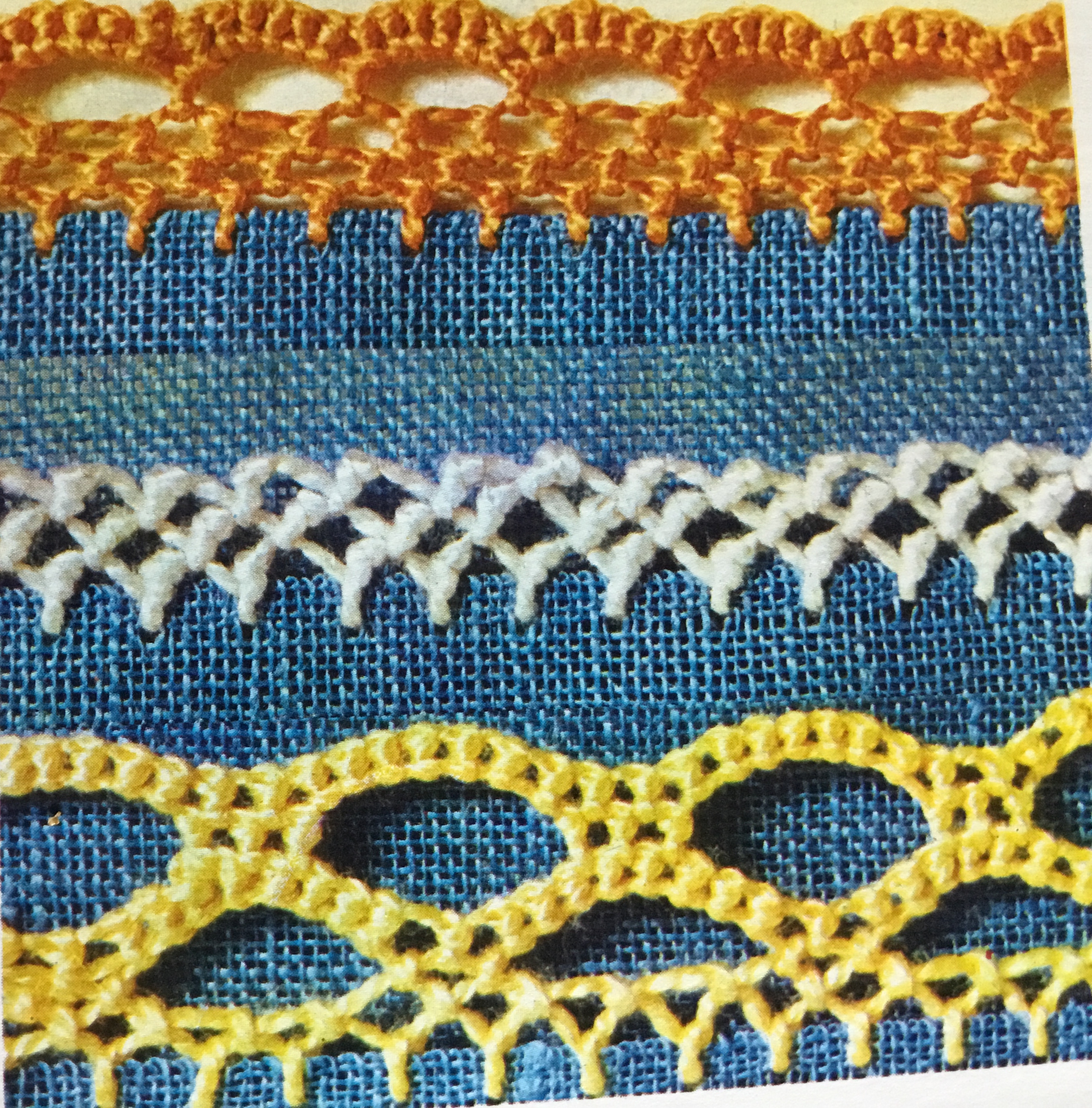 STITCHED EDGES AND INSERTION STITCHES

Ruth Douglas
Our beloved or favourite basic embroidery stitches will take on a special meaning as we explore a myriad of applications, such as seams and hems, followed by inse

Skill Level: All levels but a working knowledge of a few basic stitches is recommended.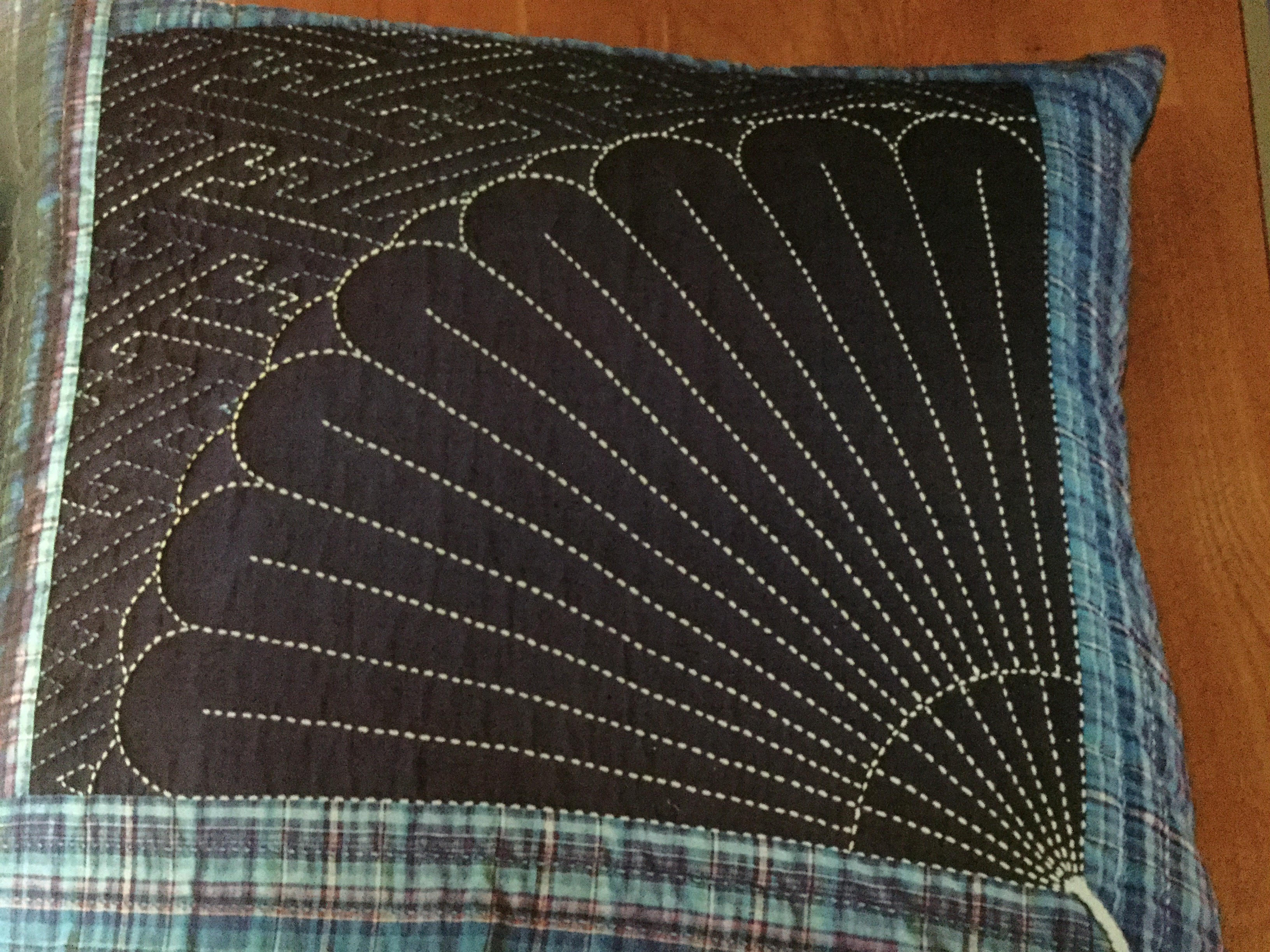 SASHIKO
Jane Londerville
The course will begin with a brief description of the history of Sashiko stitching in Japan.  The first class will introduce the even stitching required in Sashiko and the unique threads, fabrics and needles used for the stitching.  A small pre-printed project will be used to practice stitching week 1. Week 2 will discuss the methods for marking patterns on fabric to guide the stitching and students will practice marking.  Classes 3-6 will allow students to complete their own project. A sampler project has been prepared for those who would prefer a structured project. Kit price $25.
Skill Level: Beginner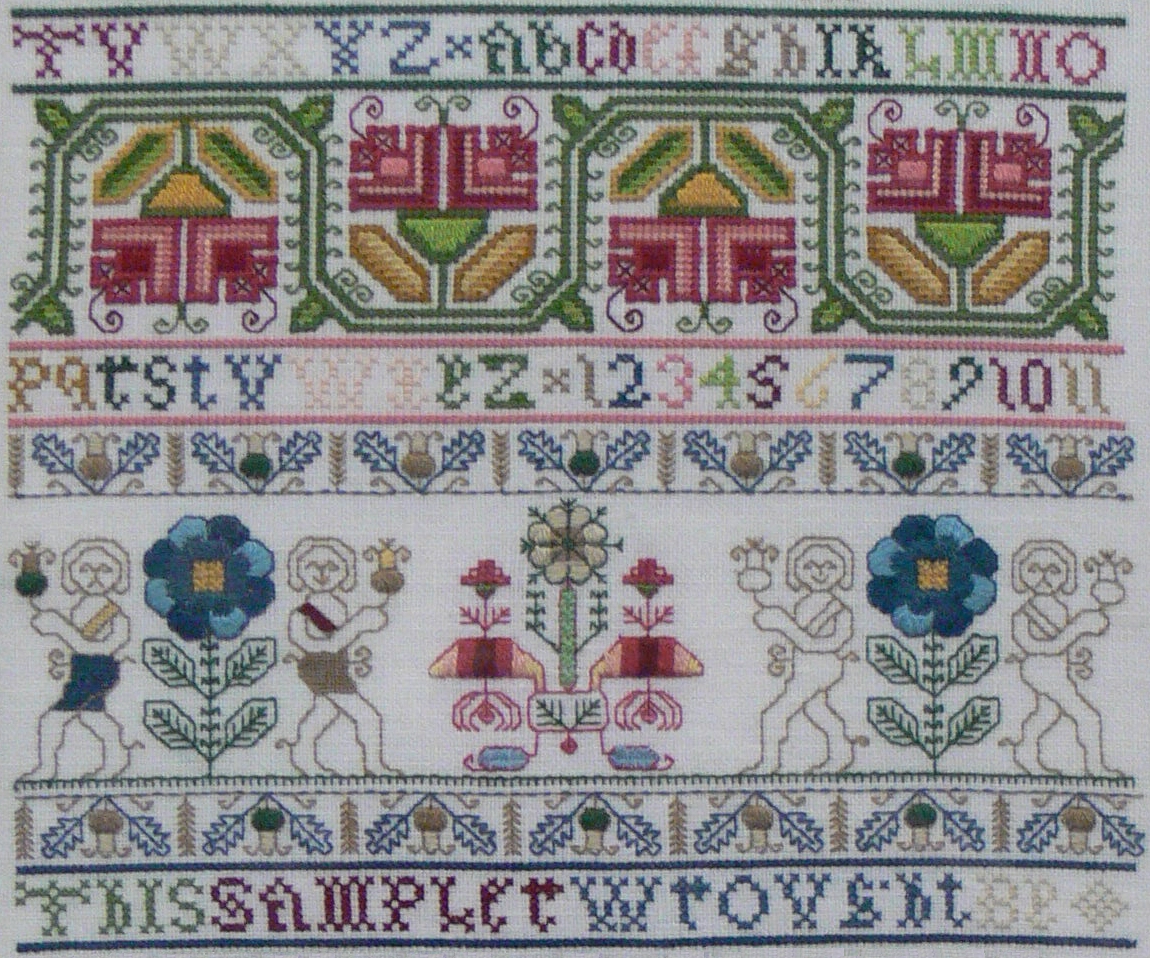 INDEPENDENT with Barb Grantmyre
Are you interested in 17th Century embroidery? Samplers? Fine thread counted cross-stitch? You are invited to sit at the Independent table and work on your project under the guidance of historical embroidery specialist Barb Grantmyre. Barb can advise you on threads, fabrics, techniques and help you source your supplies.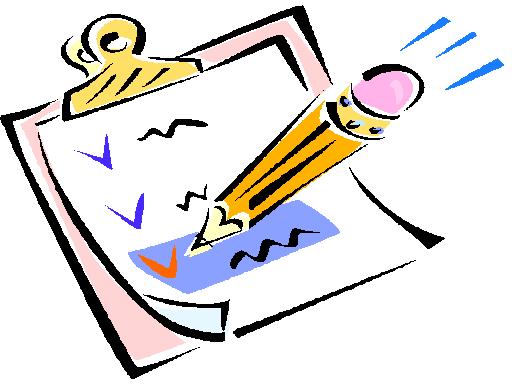 INDEPENDENT
Have you a project that needs to be completed? Are you researching your next project in our library? Anyone who enjoys the company of other stitchers but doesn't want the guidance/structure of a class, will find the Independent table just the place to be!
Winter 2020 CLASS LIST     NOTE: Class lists for 2020-2021 will be announced in August

2020 Class dates Jan 21, Feb 4, 18 Mar 3, **March 24 and April 7 classes cancelled""           Supply Lists for all classes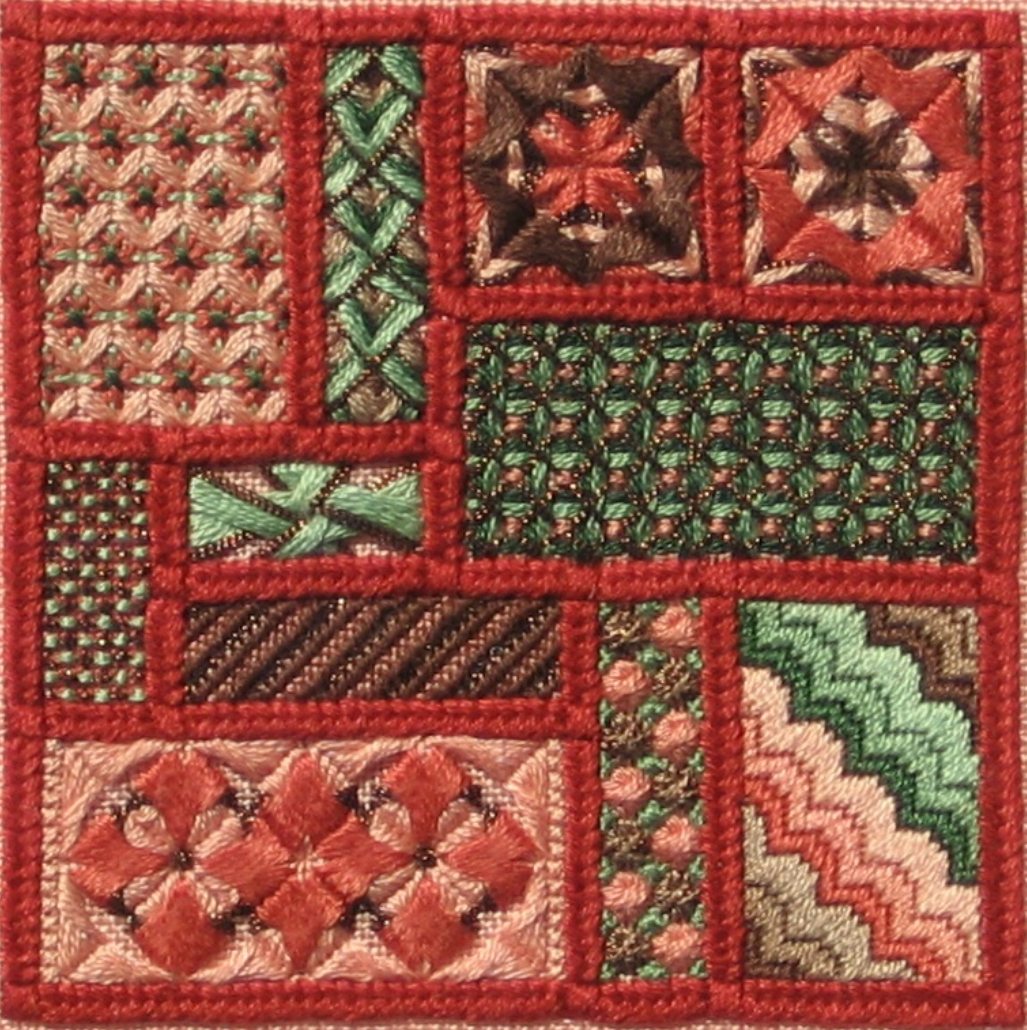 COUNTED NEEDLEPOINT ON CANVAS
Ietje Jackovich
The course will cover basic and layered stitches for 18 count mono needlepoint canvas, using a kit. You will choose your 3 families of DMC floss colours to use. A full colour pattern canvas attached to stretcher bars and needles are included in the kit. Use of a laying tool to lay thread using 2 or more strands will be emphasized. Completed size of this original design is 6.5 inches.
Skill Level: Beginner/Intermediate
Supply Lists for all classes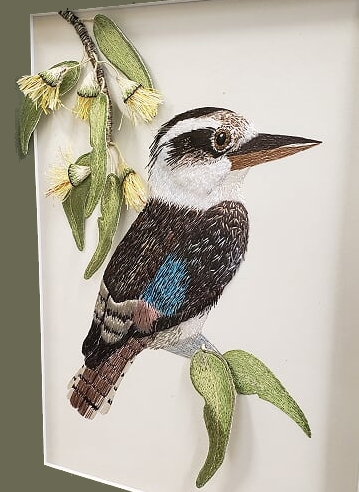 FEATHER AND FUR               ** CLASS FULL **
Mavis Brown
This course is designed to develop thread painting skills focussing on how to do birds and animals. A close look at feathers and fur will then be associated with the colour palette and the threads needed to create the object. A knowledge of basic thread painting is helpful but not absolutely necessary.  The design will be an individual choice….either birds or animals and a setting. Guidance will be offered in the development of the individual's projects. There can be some padding and some stumpwork involved. Discussion of threads and fabric and the development of a design will be the early part of the course then the lessons will be suited to your design issues.
Skill Level: Intermediate/Advanced
Supply Lists for all classes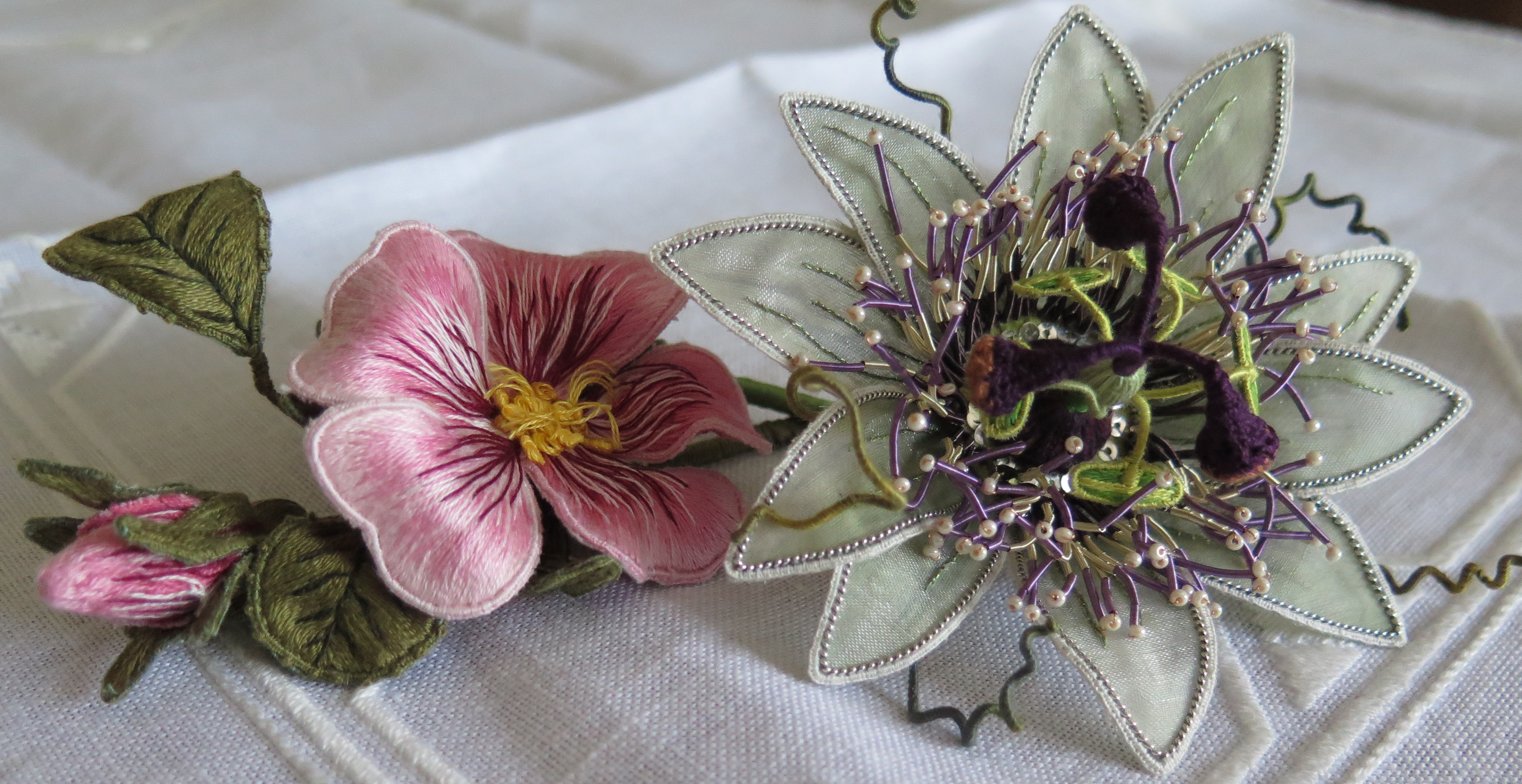 FREE-STANDING DIMENSIONAL STUMPWORK               ** CLASS FULL **
Ana Maria Kramer
Come and explore how to create beautiful raised and free standing embroidery using the simple stitches of couching, buttonhole, backstitch, long and short, satin stitch and wrapping stitch. These technique stitches can be worked around pieces of wire or beads to create individual forms such as leaves, insect wings, flower petals, fruits and berries. Individual parts then can be embellished with long and short stiches, beads, interesting threads or metallic threads of all kinds. In the end it all comes together as a beautiful dimensional work of art.
Knowledge of how to do the stitches is a prerequisite so come ready to explore different applications of these stitches. This course is part II to the introductory course taught by Dana Trimble in the fall session. However, anyone who wishes to expand and explore, more in depth, the art of raised embroidery that is free-standing or mounted on a background is welcome.
Skill Level: Intermediate / Advanced
Supply Lists for all classes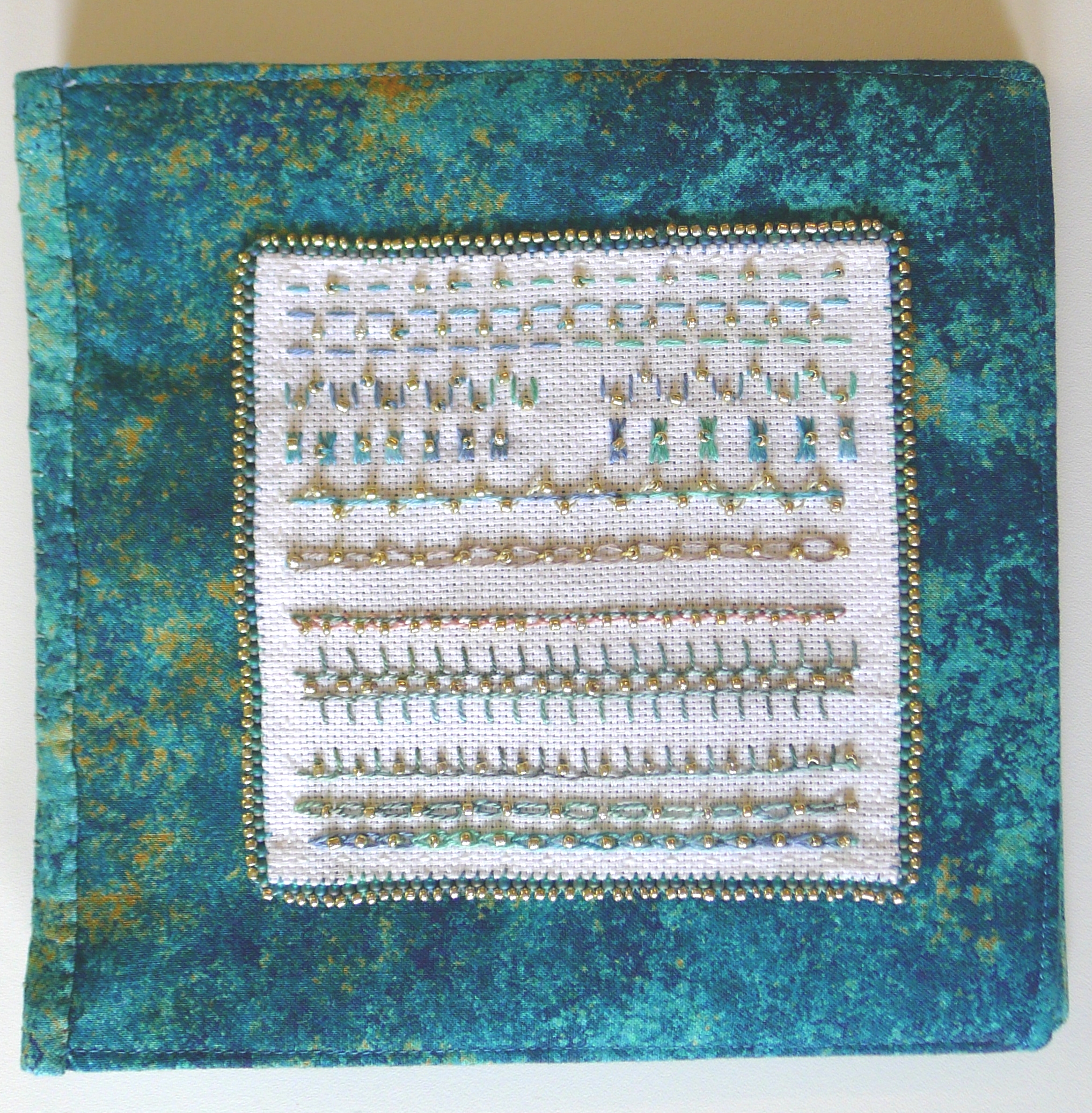 BEADED EMBROIDERY SAMPLER               ** One Space Left **
Judy Eckhardt
In this sampler course you will learn how to create original trims and embellishments for garments, crazy quilts, or textile art pieces.  Simple, basic stitches are worked with the beads, as you go, to create unique, 3 dimensional designs and motifs that add interest and texture to your work.  Aida cloth will facilitate the counting required to keep the work even and precise.  The second aspect of this course is to learn how to construct a basic cloth book to display your samples.  We will learn how to create individual signatures for the pages and then how to assemble them into a book.  A variety of finishing options will be demonstrated.  Once you learn this book method, you can make your own textile journals to keep your stitch samples or personal stitching information.
Skill Level: Intermediate / Advanced
Supply Lists for all classes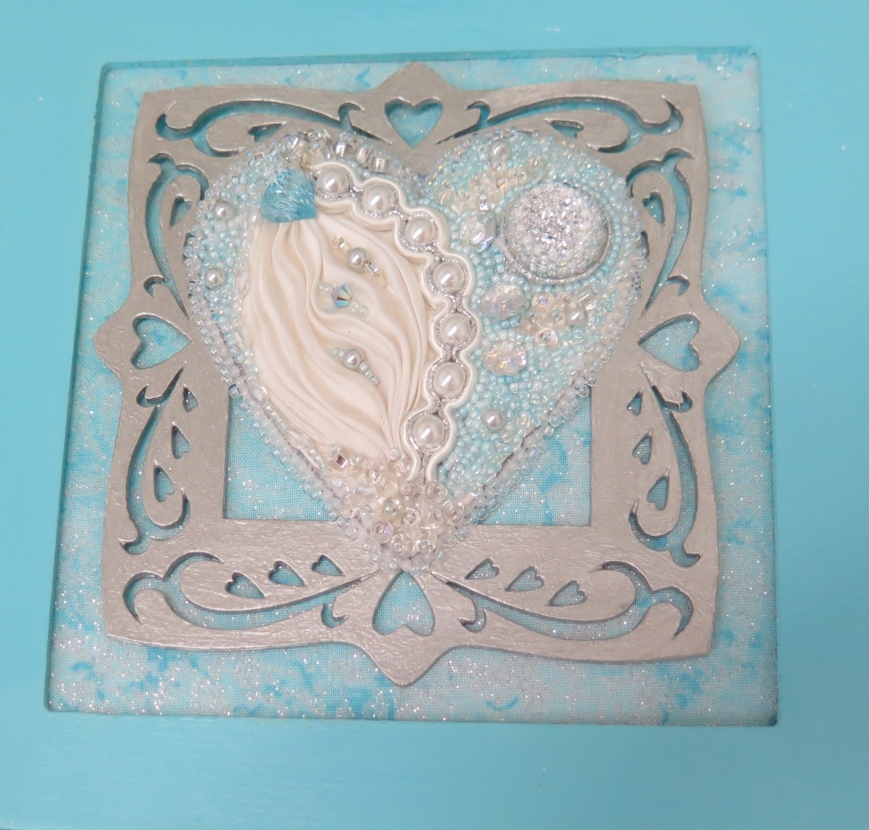 SOUTACHE AND SHIBORI               ** ONE CLASS SPACE LEFT **
Renata Georgeff
Looking for ways to incorporate new textiles into your work? This class will teach methods for working with Soutache cord and Shibori Silk ribbons, allowing you to experiment with these colourful elements to produce beautiful art jewelry or fibre art pieces.
Soutache cording is a very thin and flexible cording with a centre groove, making it easy to sew around cabochons and larger beads. Used alone, it can be couched on fabric in beautiful, intricate designs.
Shibori silk ribbon is a wide pleated fabric in gorgeous hand-dyed colours. The pleating allows it to be manipulated into flowing designs that are sewn onto backgrounds with beads or other embroidery stitches.
In this class you will select your own colour scheme, shape and placement to create a small bead embroidery project incorporating both the soutache cord and shibori ribbon.
This class is for intermediate stitchers wishing to experiment with new textiles and/or expand their bead embroidery skills.  Supplies will be available for sale.
Skill Level: Intermediate
Supply Lists for all classes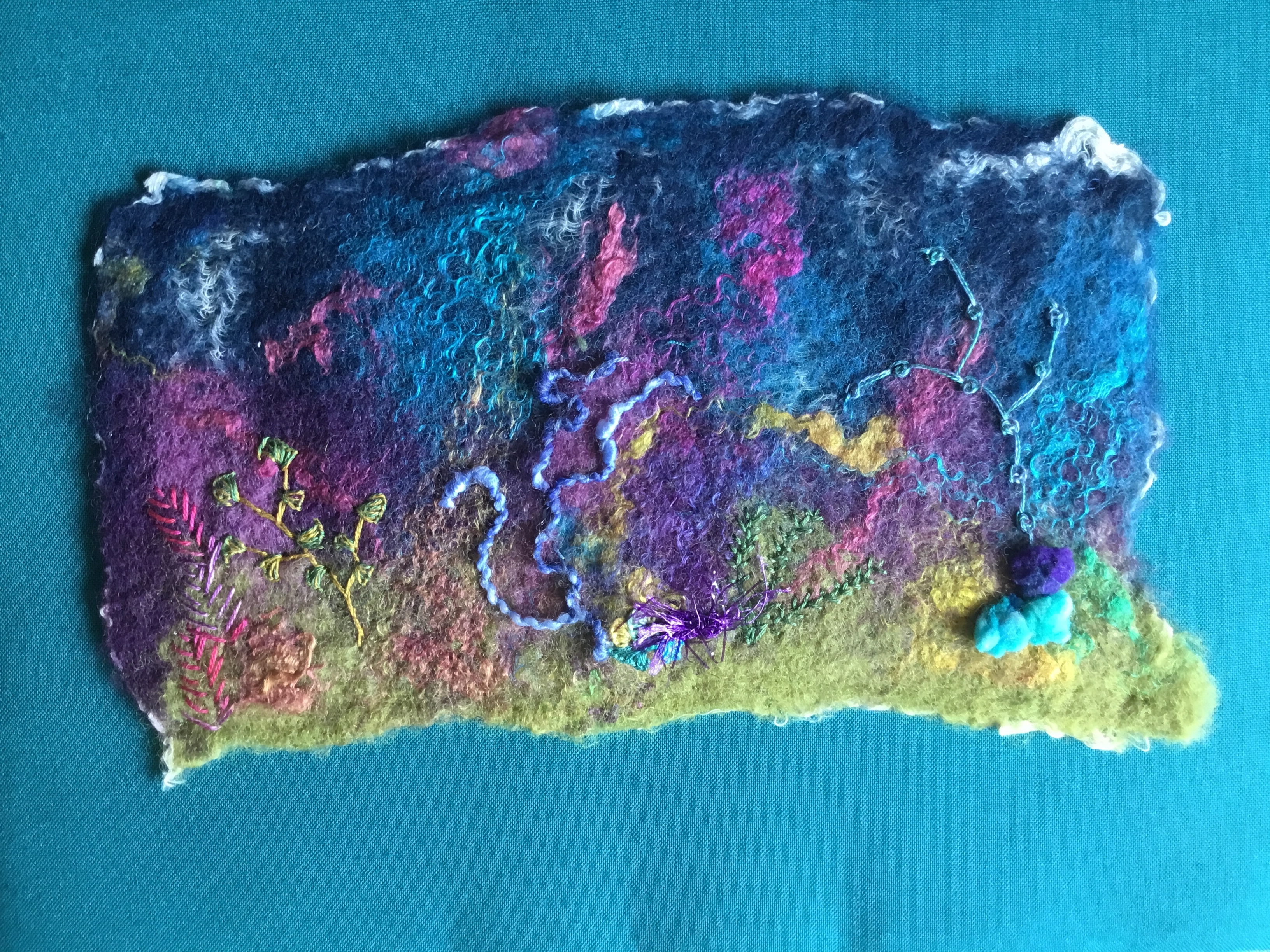 EXPERIMENTATION IN FELTING               ** CLASS FULL **
Hazel Alexander
Creating samples, we will explore nuno felt, cobweb felt and mosaic felt, incorporating silk and yarn, and how to embellish the pieces with embroidery or incorporate into another embroidered piece.
Week 1: Nuno felt on cheesecloth/muslin
Week 2: Nuno felt on silk
Week 3: Cobweb felt with silk
Week 4: Cobweb felt with yarn
Week 5: Mosaic felt grid with fabric
Week 6: Embroidery and using samples
Skill Level: Intermediate
Supply Lists for all classes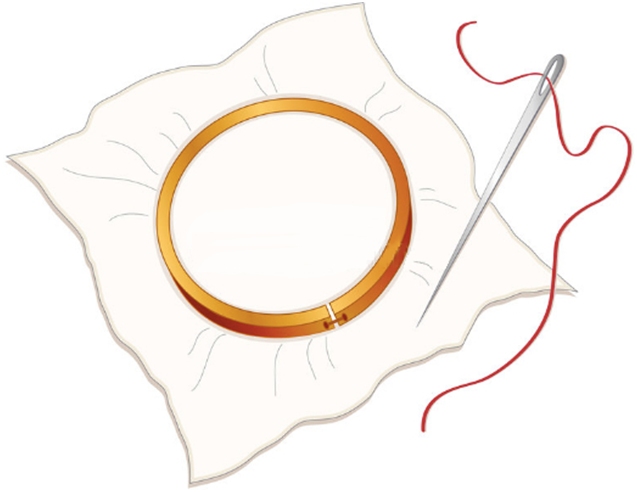 INDEPENDENT
Enjoy the company and advice of other stitchers as you work on your own project.