CLASSES
The Canadian Embroiderers' Guild Guelph has determined that we are not yet ready to offer in-person classes. So we will be offering all classes, for the Winter 2022 term, online.. Our first meeting will be January 18th and we'll run through until April 5th.
Be prepared to be flexible as online teaching is something new for most of our teachers. Your group may find you prefer to meet for 1 hour at a time. You may find that you only need a formal lesson every other session and a question session for the week between. Technical problems are bound to crop up for a few of the 50+ participants. We'll be working this out together.
For Winter 2022 (Jan-Apr) we'll have 5 different class topics, as below. Dates have been set:
| | |
| --- | --- |
| January 18 | Class #1 |
| February 1 | Class #2 |
| February 15 | Class #3 |
| March 1 | Class #4 |
| March 22 | Class #5 (note 3 week gap from Class #4) |
| April 5 | Class #6 |
| April 19 | Annual General Meeting |
FEES
All memberships for 2o21-22 are $40.00 at this time.

SKILL LEVELS
Basic: are those who need guidance in reading stitch patterns or who are new to the technique. 
Intermediate: are those who understand stitch patterns but may need guidance; have taken the technique or similar one at the basic level; have a basic understanding of colour and design. 
Advanced: are those who can read charts and stitch diagrams with ease; good understanding of stitch technique; good understanding of colour and design; able to work independently.
Winter 2022 CLASS LIST    
All classes will be online, using Zoom, for the Winter 2022 term.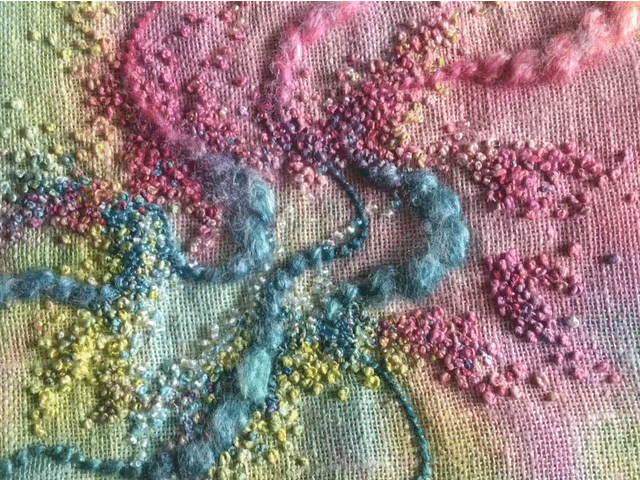 BEGINNER DESIGN

Ruth Douglas

"Many people are reluctant to design their own embroidery because they lack confidence in their creative ability" — excerpt from the Art of the Needle by Jan Beaney.
In this class we will explore ideas and simple exercises to ease the anxiety and give you confidence going forward. No kit.
Skill Level: Beginner/Intermediate

Supply List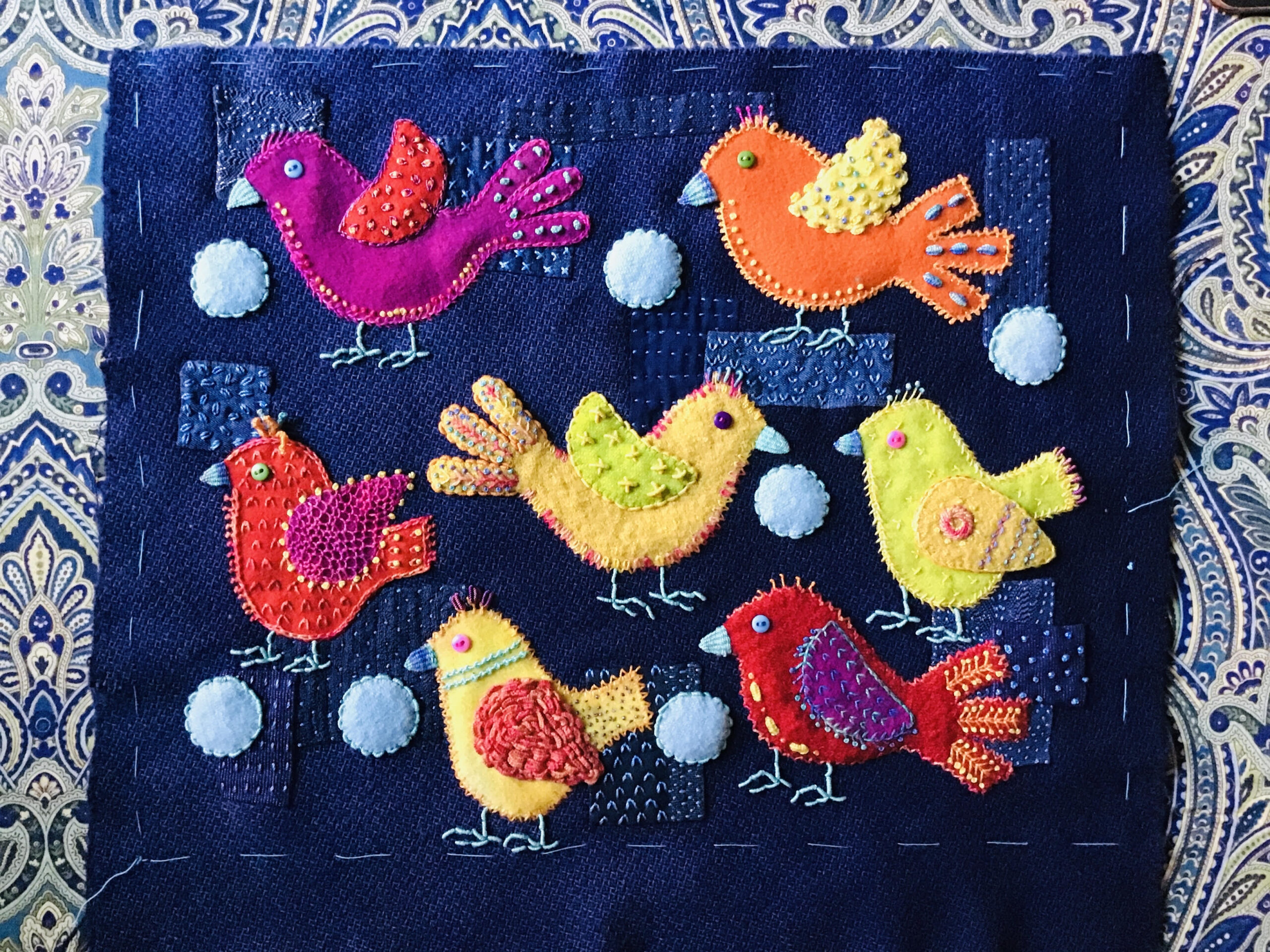 WOOL APPLIQUÉ       ** CLASS FULL **

Bridget O'Brien

Wool appliqué is a wonderful way to learn new embroidery stitches and use embellishments to create a fanciful folk art bird. We will be adapting a Sue Spargo project from Inspirations magazine #102 to create a small pin cushion, pillow or wall hanging. Learn about different types of needles, threads, embellishments and wools. Add fabrics from your stash. Challenge yourself by trying some advanced stitches. Kit fee $15.
Skill Level: Beginner/Intermediate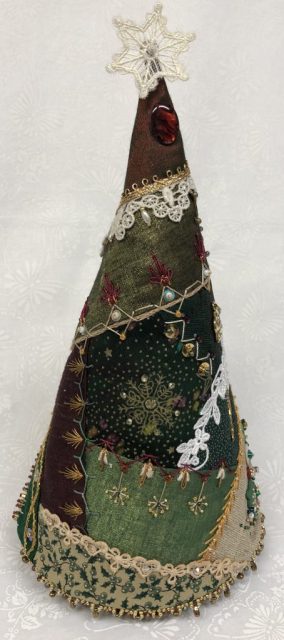 CRAZY QUILTING      

Judy Eckhardt

Let us play with the concept of crazy quilting, but put it in a new context — a Christmas tree. We will explore hand piecing, use of lace, seams embellished with hand embroidery (experimentation expected), silk ribbon roses topped off with beads and baubles.  The kit fee of $10 will cover some silk ribbon, some beads, and a surprise or two that I will provide.
Skill Level: Intermediate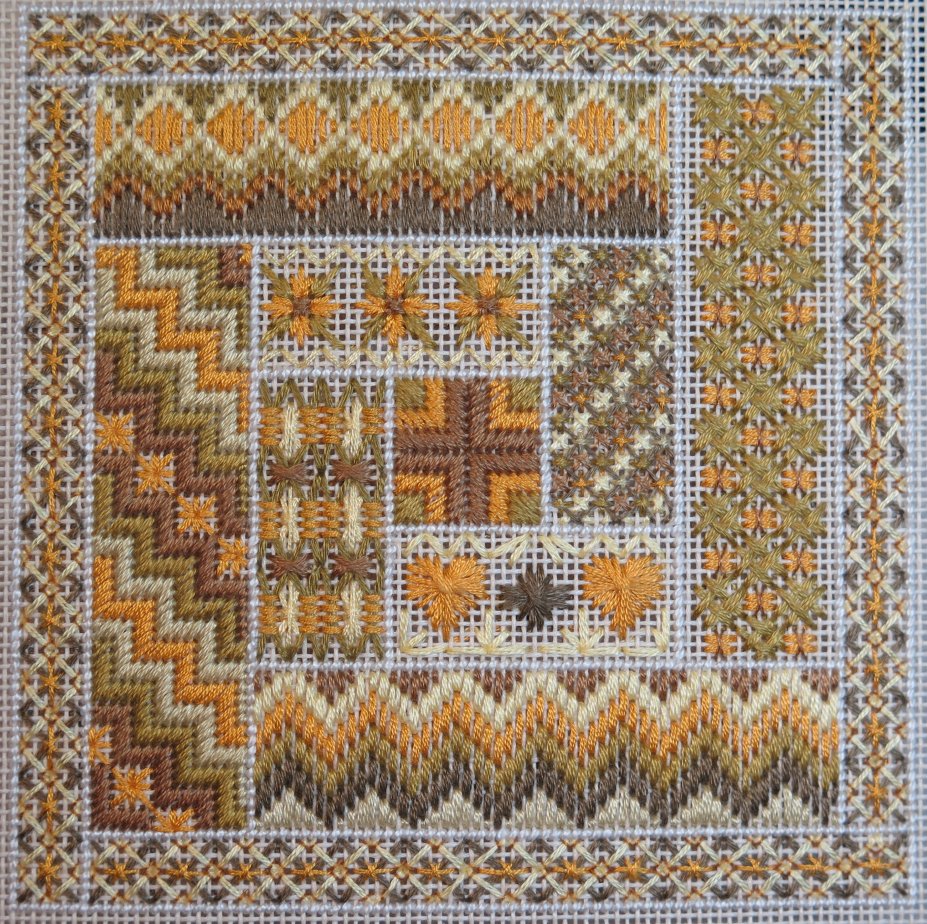 CANVASWORK    

Ana Maria Kramer

A myriad of stitches have been developed for the age-old technique of canvaswork. Clever use of the threads can form different textures or different light effects. Explore the basics and the not so basic with this beautiful sampler. These stitches will expand your repertoire for cross-stitch and surface embroidery, as well. No kit. We will work on 18 count mono canvas. See the supplies list for suggestions on purchasing the canvas.
Skill Level: All levels can do this – but we need to remember the class is a virtual class – so some experience can be a great asset.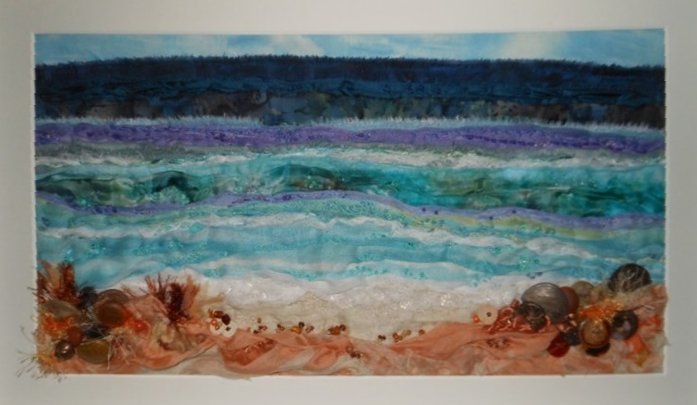 VARIATIONS IN LANDSCAPE      

Sue Ronchka

Create a landscape you will enjoy looking at for many years. A variety of types of landscapes samples and the techniques to create these interesting landscapes will be demonstrated as well as ways to combine them for greater effect. Students will choose techniques (may be all hand work or may be combined with some machine work…..your preference) that appeal to them to create a landscape that also includes simple embroidery stitches. Landscape designs will be based on a picture that is meaningful to them or one of their own designs. Note: We use pictures to get started but there is no set "pattern " for these projects. It is more playing with fabrics and colours and then adding the final embroidery and bits that make it somewhat 3-D with textures made from "odds and sods" such as buttons or bits of shells etc. Really…if you like it, then it works and is good! No kit.
Skill Level: All levels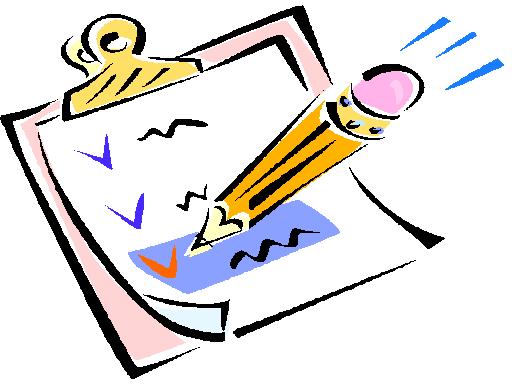 INDEPENDENT
The Independent Class is for those doing research, planning their next project or finishing something up. It's a place to get advice from other stitchers and to have some social time while wielding the needle.